Trading Hours
Monday
12pm – 10pm
Tuesday
12pm – 10pm
Wednesday
12pm – 10pm
Thursday
12pm – 10pm
Friday
12pm – 11pm
Saturday
11am – 6pm
Sunday
11am – 6pm
Next Level Games Dandenong is South East Melbourne's premier table top gaming venue. We are located upstairs at 106 Foster Street in Dandenong.
We cater to all forms of table top gaming, including TCG's, Roleplaying Games, Miniature War Games, Living Card Games, and Board games.
As one of Victoria's premium tournament locations we specialise in running a wide range of events.
Below are just some of the games we run on a regular basis:
Magic: The Gathering
YuGiOh
Pokemon
Vanguard
Dungeons & Dragons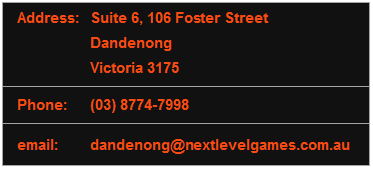 Join us on facebook to talk about your favorite games and connect with our local community
Next Level Games Dandenong Facebook Group
Follow us on Twitter Follow @NLGDandenong

At Next Level Games we'll take your gaming experience to the Next Level…